Roads Define Landscape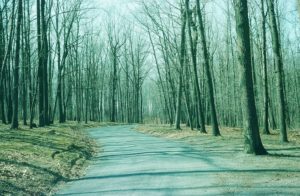 As I roll through the countryside, 99% of the time, I am in a car on a road. The landscape is organized around the roadside. While woods are on my right or the fields to my left, many vistas wait, unseen, unknown, undreamt of, beyond the geography defined by the asphalt roads.
As a child, I visited my uncle's farm. We took a rough, pebbled road up to his barn. Later on the front porch of the farm house, my uncle pointed out that all the pasture up to the far hill covered by tall trees was his.
Years later I visited that farm again, but when I sat on the front porch, the black ribbon of a new country road ran through the pasture land. On the drive in, two separate fields flanked of the road. Now, these days, the road was the interloper, splitting an old unity. Although my uncle continued to rotate corn and legumes on both sides of the road, never again would the front pasture be a single pasture.
Ideas define your thoughtscape as roads do the visual landscape.
If you know science, physical relationships organize your environment.
If you more concerned about psychology and personality, personal relationships define your world.
If you worry about who's making decisions, political relationships define your universe.
---
Daily Life