Grab Bag of News
Rare Events Do Occur
A person wins the big lottery against tremendously long odds. Such a thing may never happen to you, but other events with difficult odds will happen, at times.
If an event happens once in a thousand occasions, it can happen to you every three years, since there are over one thousand days that the event can occur on.
Think a one in a million event will never occur? In your thousand-fold acquaintance group, that longshot will likely happen to someone you know once every three years.
Fairness For All Applicants
With Affirmative Action in college admissions recently declared unconstitutional, how do we ensure that qualified applicants have a fair shot for admission?
We shouldn't overlook that characteristics to make for a successful college student are not captured into an exact formula to base a decision on. Test scores and extracurriculars miss the applicants who overcome home and neighborhood obstacles to achieve high school success.
Of course, we want our colleges, post-graduate, and medical schools to accept the best, but those traits required are not completely defined.
Let the deciders use their best skills to select the half the applicants, then place the rest of the applicants, who meet the academic requirements, into a common pool.
This half of the class gets randomly selected from the pool.
In that way disadvantaged students, regardless of color or financial background, have an unbiased chance to fit a seat that they are capable of occupying.
Books on Kindle
This month I read Isaac Asimov's Foundation on Kindle. The ease at which text can be highlighted and notes saved is a boon as is being able to enlarge text. I borrowed it from MD Digital Library, then used the Kindle notebook to write my Goodreads review.
Media Slant
Financial channels work from the premise that all regulation of corporations inhibits them from performing at their best. Worker well-being is not in their screen. Their mindset is—if the worker's job is intolerable, they are free to get another job.
Here's a recent case from where their bias is apparent. The Reuter's report on UPS labor contract led with concern about UPS bottom line rather than analysis of salary and benefit changes.
A tentative labor deal between United Parcel Service and the Teamsters union on Tuesday could pressure full-year outlook for the world's largest parcel delivery firm, according to analysts.
Better wages for workers are not the financial world's prime interest. Corporate profits are.
The Biden administration is for better wages. Unfortunately, business talking heads find Biden's actions contrary to their immediate profit and market pricing goals.
In financial jargon, higher wages mean lower profits. Actually, increased worker earnings boosts GDP. A bit more jargon is more appropriate.
A rising tide lifts all ships.
Gerrymandering Grief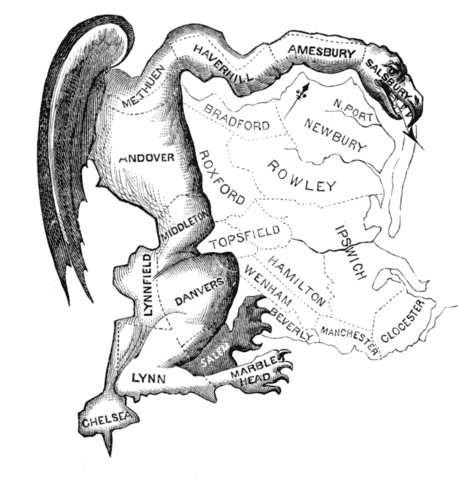 Alabama wants to draw legislative districts that favor the party in power. Another ten states are waiting for the courts final ruling because they have the same interest in bolstering their party's prospects.
Consider this change to election rules. Anyone, anywhere in the state Is allowed to vote for the representative they feel would best serve their interests. The House will be filled by at-large elections (as the Senate is). And gerrymandering would be eliminated.
Nothing would stop a candidate from focusing on a special city or area of the state.
In addition, if 45% of the citizens across the state's electoral districts, favor a particular issue, they could be shut out of representation in the House, by the other 55%. However, with at-large elections, they could elect a candidate that represented their view.
---
Image of Gerrymander, public domain, WikiCommons from the original cartoon
a_banner1
Society