Covid-19 MD and GA new cases
Once a number person, always a numbers person. Despite the pandemic being a baleful event, my mathematical brain still finds the tracing of its numbers irresistible.
In the beginning of lockdown, each day I'd glance at the count of Maryland' cases and then move on to my productive daily project. After a couple of weeks, I realized I didn't know how fast the state's count was growing. So I started logging them plus I added Virginia's to keep a lockout for infection differences between the two physically close states.
Rate of New Cases, Maryland
Surprising me, it took until June for a steady decrease in new Maryland cases to occur. I suppose that is a consequence that despite the lockdown, many people in essential services continued to contract the disease through contact in their jobs and then bring it home.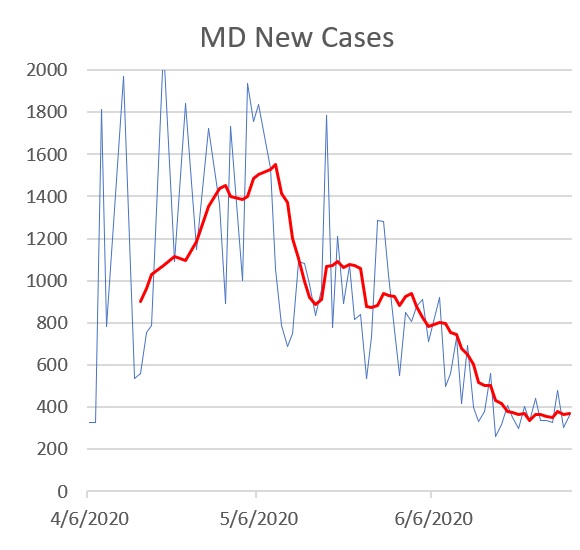 The Maryland chart shows actual new cases with a light blue line. The heavier red line is the weekly moving average which clearly shows the declining numbers of new COVID-19 cases, currently below 400/day.
Virginia has followed the same basic pattern as Maryland.
Rate of New Cases, Georgia
In the middle of May, after Georgia had reopened, I started tracking its data to see how it was doing. Although at first, it was doing better than Maryland and Virginia lately it has taken a turn for the worst.

This graph is narrower, to visibly represent less time is tracked for the Georgia data. As in the present graph, the light blue line connects the actual new daily cases, with the thick red line connecting the 7 day moving average that smooths out the chaos of daily numbers. On the Y axis, you can see that Georgia now has more than 1800 new cases/day.
Takeaway
It's likely that no state of the country will willingly take more actions to slow the disease until it threatens to overload their local medical facilities. Marylanders, after New Yorkers and other early active sites, accepted restrictions on their interactions—at significant cost—which flattened the growth curve of infection.
Perhaps I'm unduly pessimistic, but Georgia, Texas, Florida, Arizona, and other states may not accept mask and distancing guidelines until their hospital systems are nearly overwhelmed.
Why? Consider the psychological force of the Shadow of the Leader.
Society