Trump Escapes until November
Why hasn't Trump been found guilty of any high crimes or misdemeanors?
He fires anyone who disagrees with his version of reality. Michael Cohen, James Comey. Too many others to detail.
He pardons those who stonewalls to protect him. Stone, Flynn. Too many others to detail.
He parcels out government goodies to favorites who accept his reality. For example, small business loans, meant for pandemic relief.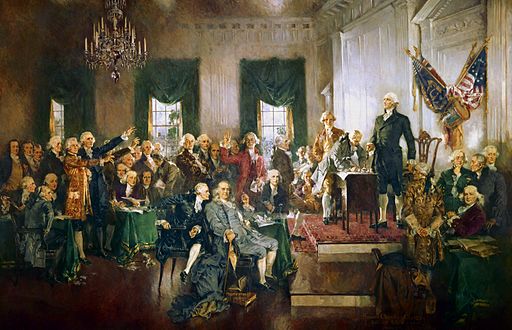 High Crimes and Misdemeanors
What high crimes and misdemeanors someone who only listens to the Republican echo chamber may wonder? Following are significant items.
Putting his personal interests above United States interests. Russia, Ukraine, Saudi Arabia.
Actions and inactions that have made the pandemic worse. Dismantle preparations, no leadership or responsibility.
Actively resists correcting police violence that Black Lives Matter protesters have kept attention on.
Foreign affairs. Pandered to Putin, ignoring bounty Russia has put on US service personnel.
Personal self-enrichment. Directing and overcharging taxpayers for use of his properties.
---
Painting Scene at the Signing of the Constitution by Howard Chandler Christy / Public domain. WikiMedia Commons
Government