Deep in His Own Well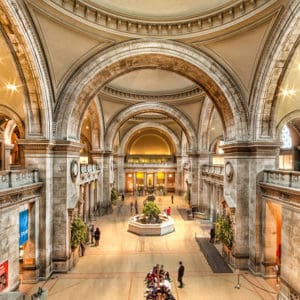 This statistic of the day showed in Facebook. A visitor views a picture for a median of 17 seconds at the Metropolitan Museum of Art. I wouldn't dispute that, but let me add this flash piece representing the long tail end of that distribution.
---
"Gary, don't think this Monet is amazing?  His lily ponds are amazing."
Sandy, my girlfriend, calls everything amazing. "Actually, I do credit him with some interesting experiments. The way he brings the viewer into active  participation, by forcing the combination of colors to occur in the viewer's eye, is certainly worthy of attention."
"Honestly," she said, "you're impossible!  Here we are, surrounded by some of the greatest works produced by the Impressionists, and you are still on your high horse.  'I can credit him', as if you can't you just let go?  Experience without criticism?"
"Sure, I can … I was about to elaborate, but entering another gallery, my eye was pulled to a somber painting on the wall, Rembrandt's Aristotle Contemplating the Bust of Homer. Sandy couldn't expect me to talk and view this masterpiece at the same time.
"Gary, isn't that amazing?" I tuned her soft voice out.  She was rhapsodizing once again.
I don't know how long I stood there. In fact, I can't be sure that I didn't sit on the divan, get back up, and sit back down. I was transported by reveries invoked by the masterpiece, from the earthy commercialism of the Dutch empire and to the bonds to the Academy of Athens. Yet it was the image, provoked by Homer, of Achilles mobilized to action on the death of his noble friend, Patroclus, held me tightest. My ego tingled as I recalled the connections between philosophy and politics, through Homer, Aristotle, and Alexander the Great.
I'd have spent even longer before the idols of the past, had not a tour, led by a noisy cicerone who uttered the most trivial comments, entered.
Sandy wasn't in the gallery anymore. I made my way to the huge vestibule in the front of the Met. Across the floor, I could discern Sandy sitting by the tulips.
Who is the man Sandy is talking to?
Making my way towards her, maneuvering through the crowd, halfway there, a museum aide grabbed my attention with his words,  "costumes of Serge Diaghilev's Ballets Russes downstairs."
I had always enjoyed the aura of the Ballets Russes, although I knew nothing of it, truly.  I headed for the nearby stairwell to the lower gallery.
What was it that I was just wondering about?
Oh, never mind. To see Michel Fokine dance to the music of Stravinsky would be heaven indeed.
---
Photo, Interior of Metropolitan Museum of Art in the public domain, courtesy of WikiMedia Commons
Contemporary