How Come that Idiot's Rich and I'm Not
A title demanded from the library shelf.

I understand the economy and the markets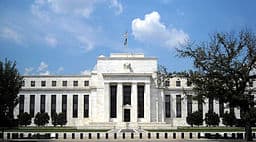 Last week, I argued against the Fed
It shouldn't exist, gave good reasons and historical precedents.
Monday I bet on inflation, buying precious metals.

My broker called this afternoon
My gold fund tanked
The Fed had countered the trend.
I can prove the Fed shouldn't exist
But it cost me, since it does.
---
Image Federal Reserve Building. AgnosticPreachersKid / CC BY-SA (https://creativecommons.org/licenses/by-sa/3.0)
My Poems