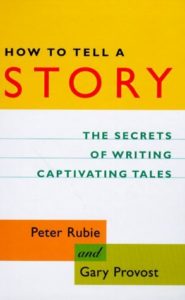 The book, How to Tell a Story, assumed that a book-length product, novel or non-fictional narrative was the end goal. Although I am most interested in short stories, most of the advice and discussion was easily applicable to my goal.
Dramatic Structure
More important than style, syntax, and grammar
Determining how story is most effectively told
Characters who are not afraid of conflict
Conflict that continues to rise until narrativeís end
Story, not afraid to play it big. Focus on novels esp
Opposition is formidable enough that it defines and reshapes the hero for the better by storyís end, but not insurmountable
Good Story
Takes readers where they havenít been before in the company of interesting people they learn to care about who are forced to deal with adversity.
The story is not what happens, but to whom it happens. †
The events are not the most important thing. The most important thing is the meaning of the event.
WAGS. Does Idea have Strength
World. If I can move the story to another location, Iím not using the unique qualities of the story location to advantage.
Active. Active character
Goals. Must involve action that can be visualized for the reader.
Stakes. High stakes, commensurate with effort reader is expected to commit to. Short stories can deal with small stakes, but they still must be very important to the chief character.
High Concept
In a query letter. Dear Mr. Editor. We never meant to kill her. It was just mischief after all.
A story isnít real life. Characters in stories are bigger than real people; they do what we wish we could do.
Plotting
The structure of the story
Once upon a time, something happened to someone, and he decided that he would pursue a goal. So he devised a plan of action, and even though there were forces trying to stop him, he moved forward because there was a lot at stake. And just as things seemed as bad as they could get, he learned an important lesson, and when offered the prize he had sought so strenuously, he had to decide whether or not to take it, and in making that decision he satisfied a need that had been created by something in his past.
Character
Again. The story is not what happens; the story is who it happens to.
Story problems are usually the character doesnít fit the action.
Melodrama, character overreacting to a situation. Alternatively, character is under-motivated.
Viewpoint
How best to reveal information: who has that information and how to give it to the reader.
Choose by determining manner for max reader emotional impact.
Best is active character (not reactive, nor passive).
Early, before 1st draft. To understand the other main characters, write a scene from their point of viewpoint.

Intro or critical scene
1st person and 3rd person can coexist in this exploratory effort.
Background support and explanations are not necessary. Can be inconsistent.
Verb tense can vary as immediate impulse leads. Sentences and paragraphs do not be completed, once they serve their purpose. They can ended with ellipses, if a new line or thought demands it.
The sequence of actions can be wrong in this POV draft with no need to set them straight.
Subplot
Often used to expose an important aspect of protagonistís character that has no direct bearing on the main plot. Usually emotional life of hero.
In matrix story form, the subplot can have the same theme, but with the romance figure.
Or if the main plot is about an abstract theme, the subplot can be with the reflection but with emotion. E.g. persecution, which is distant from a young boy, can be discriminated for being short by other members of a basketball team.
Can increase emotional temperature of many stories.
Tool to vary storyís pacing.
Method to control flow of information to reader.
Pacing
95% paced to slow. Only 2-3% are paced too quickly (my bugaboo), not sufficient development.
Slim 2-3% unsolicited manuscripts make it past the pacing sieve
Non-Fiction Narratives
Peter Rubie explain how the writing craft aspects could be applied to non-fiction narratives, biographies, memoirs, and enlivening factual articles.